It's hard for me to believe that this time, 5 years ago, I was waddling around with my sweet Lucy tucked tightly inside of my belly. I went over to visit my blog that I kept while I was pregnant with Lucy and found this post from the wee hours of the morning of October 31st, 2007:
Just a little over one day until Lucy arrives! I don't think it feels real that tomorrow is my last day of being pregnant...kind of sad about that, but also just SO excited about meeting my little RK! Here's a few last preggie pics...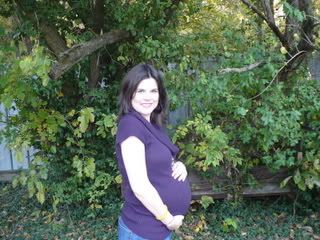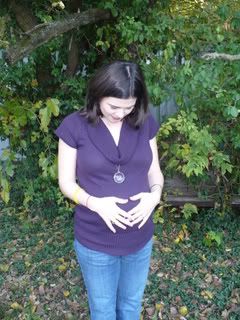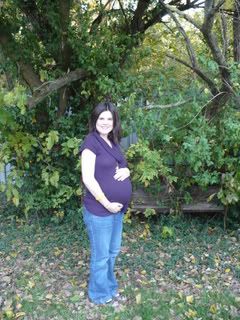 It's so hard to believe that Lucy was right there in my belly, and now here she is today, at her Halloween party at SCHOOL! ...Someone remind me again how my baby girl is already in school?! (On a side note, it's kind of funny she's wearing purple today since that's the color I was wearing in those pix:)
Lucy with her pre-k teacher, Mrs. Titus
I remember the night before Lucy was born as if it were this very moment. I remember feeling her kick, feeling contractions, the anxiety, the nerves, and the excitement. I remember being so thankful that God had chosen to bless us with a child. And on this night, five years later, I watched my "grown up" baby girl prancing around the parking lot at church, dressed as My Little Pony, and happily passing out candy to all the kids who came by our trunk. And next to her was a stroller holding her sweet baby brother, yet another precious gift God chose to bless us with after another long struggle of trying to conceive. I am so overcome with thankfulness in His perfect path and plan for our family. My belly was full five years ago, and now my heart is, too!
So, to celebrate this wonderful blessing of Lucy's birth, we had a party this past Saturday, October 27th. Since her birthday falls so close to Halloween, we usually let her chosen bday theme decide what we will dress up as a family, and we also invite all of the guests to come dressed in their costumes. This year was a bit more difficult than our past costumes (Mary poppins characters, Peter Pan characters, and Peanuts characters) because she wanted a My little Pony costume, so we had to get a little more inventive (since even though DH is crazy about his little princess, there is NO way he is going to dress up as My Little Pony!) I love the end result though: 80's cartoon characters! Lucy was starsong from my little pony (of course!) I was rainbow brite, dh was Clark kent/superman, and GP was Pete's dragon. So, for our trunk for trunk or treat tonight, we did "cartoon network," complete with a tv playing cartoons! Lucy's birthday was totally centered around My Little Pony though. I absolutely LOVE planning her parties each year, and this year was no different-I had a blast with it!
I used pink tablecloths and packing tape and DH helped me spread them out on the floor to create two "lanes" for the horse races we were going to have. We also did a balloon game on the two "horse tracks" at the beginning of the party. (Which was more of mass chaos, but oh well:)
My mom helped me make thirty (yes, 30!) hobby horses as the party favors for said pony races. It was pretty consuming, but it was also a lot of fun, and I think the kids all loved them! (There are a lot of boys Lucy's age, so it's always tricky to come up with a party theme that is girly for my girly girl, but has some aspect to it that boys will like, too. I figured stick horses were the perfect solution!) Our living room pretty much turned into a stable last week! I'm sure the neighbors were wondering why on earth
I had 30 hand dyed tube socks hanging outside
on the front porch to air dry! LOL:)
For the tables, I used pink table cloths and placed MLP cutouts on a dowel rod and put them in a vase file with water I had dropped some food coloring into. I also placed MLP coloring and activity sheets at each place setting.
Several months ago I saw a cute idea on Pinterest where you take plastic tablecloths to create a backdrop, so I did that and took pictures of each of the kids that came. One of the MLP is rainbow dash, so we kind of went with that "rainbow" theme for several things, like the backdrop. We also played a version of pin the tail on the donkey (stick the cutie mark on the pony) and the kids also made fruit loop necklaces.
Lucy seemed to have a wonderful time, and we are so thankful for the friends and family who took the time to come celebrate with us. She is one blessed little girl, and oh how very blessed DH and I are to get to be her parents. Lucy-mommy and daddy love you more than you will ever know, and baby brother is so blessed to have you as his big sister. May you continue to "so shine your light before men that they may see your good deeds and glorify your
Father in heaven." Happy birthday, bugaboo!